Welcome to
Common Sense Heating.
We are busy already.
TAX CREDIT
These units are official for the TAX CREDIT
They passed far above the required 75%

Call us at
603-727-4444

Remember,
if you pick it up
in
New Hampshire
you pay no Sales Tax
You save even more
with
Common Sense Heating.
Call us and start saving
soon.
603-727-4444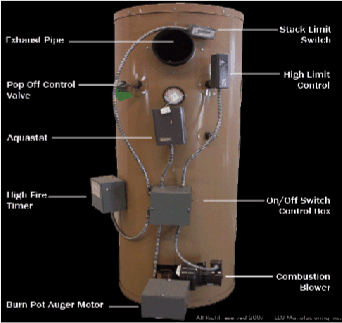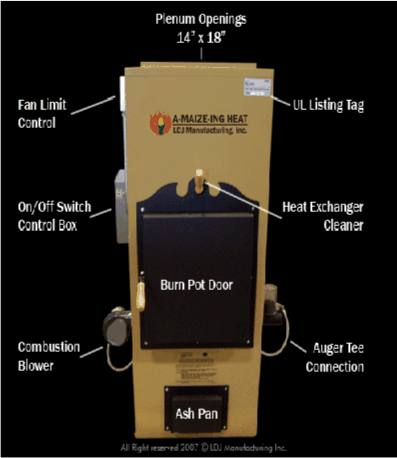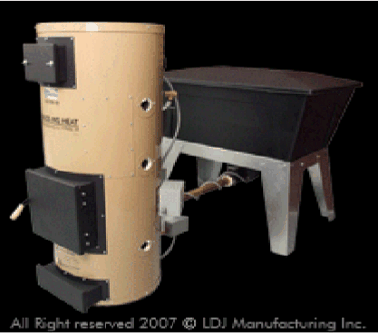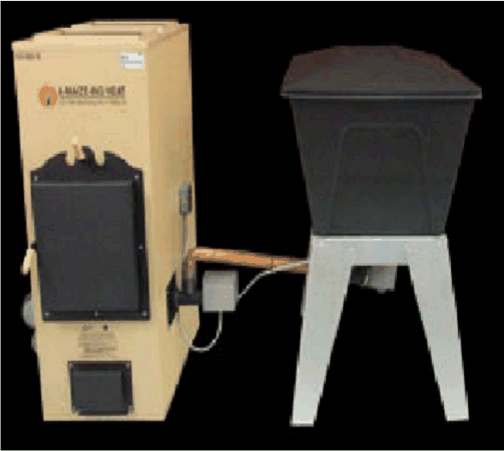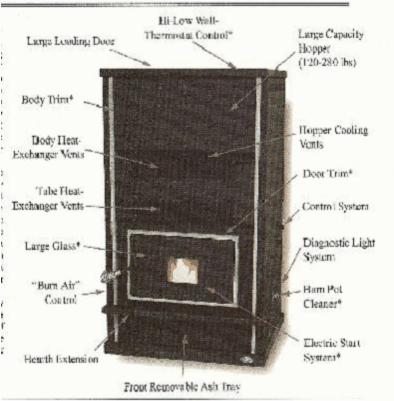 KOZI Shop Heater Pellet Burner
Models 120, 200, 280
ENJOY THE COMFORT AND RELIABILITY OF A KOZI PELLET BURNER

Designed for the workshop or the home, the KSH Shop Heater is perfect as a primary or a supplemental heating source . By generating heat using waste wood by-products formed into pellets, the KSH Shop Heater produces a large amount of heat while requiring little maintenance. The extra large hopper capacities are just another added feature that make the unit so easy to operate.

The entire line of KOZI Pellet Stoves are considered "clean burning" as they produce low emissions and ash content. Our products have been designed to meet the most stringent and rigid safety specifications in order to last a lifetime. The unique 3 Light Module Monitoring System acts as a trouble shooting guide. At a glance, this diagnostic system will relay the operating status of your unit to ensure your safety and peace of mind.
The KOZI Shop Heater Pellet Stove is ideal for any stand alone installation. The Power Venting System eliminates any chances of backdraft. The flexibility of burning either outside or room air allows for custom operation to suit any application. A convenient front mounted control panel allows the owner to manually adjust the fuel feed rate and fan speed to suit individual needs for temperature control. KOZI Pellet burners are warranted against poor workmanship and defective materials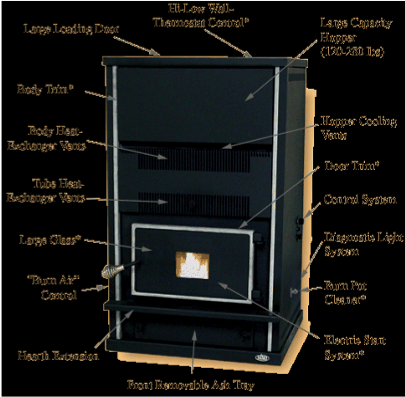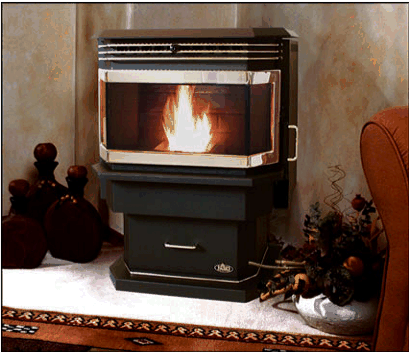 KOZI Shop Heater Pellet Burner
Models 120, 200, 280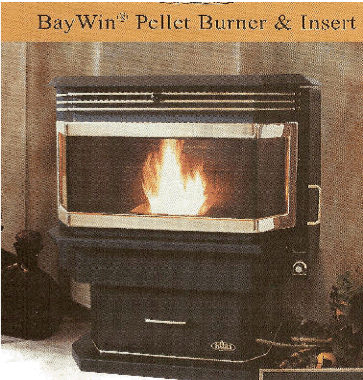 Highly efficient, environmentally friendly, and competitively priced, the KOZI Model BayWin Pellet Burner is the most popular alternative heating source on the market today.

Loaded with state-of-the-art features, this pellet burner will provide many years of trouble free heating comfort. The attractive design guarantees it will fit into any decor.

Each appliance is equipped with many safety features such as; Circulation Fan Override Switch, High Temperature Sensors, and an Exhaust Sensor. Our 3 Light Module Monitoring System, standard on all pellet stoves and inserts, acts as a trouble shooting guide. At a glance, this diagnostic system will relay the operating status of your unit to ensure your safety and peace of mind.

The KOZI BayWin Pellet Burner is available as a freestanding stove or a fireplace insert.
The Electric Start Kit is standard on all KOZI model BayWin Pellet Stoves and Inserts.


Design Features:


# Simple fully automatic push button start-up system
# Advanced glass saver door screen - reduces cleaning frequency
# Automatic safety shut-off when the unit runs out of fuel
# Automatic shut down in the event of any system malfunction
# Heat exchanger blower senses amount of heat and adjusts blower speed accordingly
# Simplified control circuit is easy to maintain and inexpensive to repair
# An unique diagnostic light module makes it easy to monitor system functions




The Heater:


# 10 tube heat exchanger
# 50 lb. (22 kg) feed hopper easily converts to a 100 lb. (45.5 kg) capacity with the optional hopper extension
# Large capacity and removable ash reservoir reduces cleaning frequency
# Top loading fuel feeding system separates the burn chamber from the fuel storage compartment thus reducing the risk of any "burn-back"
# Negative pressure burn chamber prevents spillage of smoke and fumes into the house
# Manual draft control allows easy adjustment for various fuel and draft conditions
# Adjustable fuel feed from 1 lb to 4.5 lbs per hour (454 grams to 2 kgs)
# Variable speed heat exchanger blower
# Unique "bouncing flame" heater design
# Effective air wash system keeps glass door clean longer
# Tested and Certified for safety, efficiency, and performance by Warnock Hersey
# Certified for residential and mobile home installations in Canada and the U.S.A.
# Insert models Certified for masonry insert and factory built zero-clearance fireplace installation


Body Construction:


# All visible corners and edges are finished to reinforce safety and accent appearance of the unit
# Heavy duty, full hearth extension
# Heavy block steel 24K gold-plated door


Specifications:


Stove Insert
WIDTH 25" / 625 mm 25" / 625 mm
DEPTH 25" / 625 mm 25" / 625 mm
HEIGHT 31" / 775 mm 23" / 585 mm
WEIGHT 225 lb. / 103 kg 200 lb. / 90 kg
FUEL CAPACITY 50 lb. / 22 kg 40 lb. / 18 kg
MOBILE HOME APPROVED APPROVED
BURN TIME 11 to 50 hours 9 to 40 hours
INPUT/HR* 40,000 BTU 40,000 BTU
FLUE DIAMETER 3" / 75 mm 3" / 75 mm

*INPUT MAY VARY WITH THE QUALITY OF FUEL


Fireplace Opening Requirements:


WIDTH MIN 23" MAX 40"
HEIGHT MIN 19.5" MAX 31"
DEPTH MIN 16"
HEARTH REQUIREMENT MIN 11"
CLEARANCE TO COMBUSTIBLES

TO BACKWALL 1" / 25 mm
TO CORNERS 1" / 25 mm
TO SIDEWALL (BAYWIN) 12" / 300 mm
TO SIDEWALL (XL) 5" / 125 mm
TO MANTLE 13" / 330 mm
ALCOVE MAX. DEPTH 30" / 762 mm
ALCOVE MIN. WIDTH 48" / 1220 mm
ALCOVE MIN. HEIGHT 48" / 1220 mm
FLOOR PROTECTOR 6" / 150 mm
ELECTRICAL REQUIREMENT 115 Volt / 3 amp
WITH SELF IGNITER 115 Volt / 9 amp
EPA STATUS EXEMPT
TESTING AND LISTED BY WARNOCK HERSEY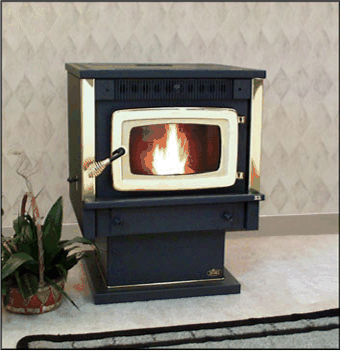 KOZI Model 100 Pellet Burner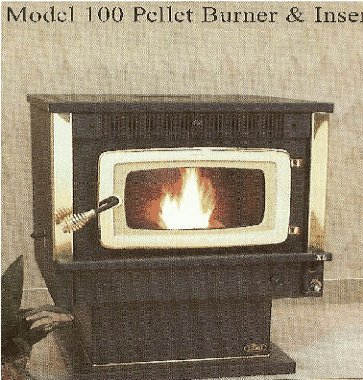 KOZI Model 100 Pellet Burner
ENJOY THE COMFORT AND RELIABILITY OF A KOZI PELLET BURNER

Designed to generate heat using waste wood by-product pellets, the KOZI Model 100 is a highly efficient, environmentally-friendly, economically priced unit. KOZI Pellet appliances are considered "clean burning" as they produce low environmental emissions and ash content.

As a primary or supplemental heat source, KOZI Pellet Burners produce a large amount of heat while requiring little maintenance. Our products have been designed to meet the most stringent and rigid safety specifications in order to last a lifetime.

The unique 3 Light Module Monitoring System acts as a trouble shooting guide. At a glance, this diagnostic system will relay the operating status of your unit to ensure your safety and peace of mind.

The KOZI Model 100 Pellet Stove is ideal for stand alone installations while the KOZI Pellet Insert is designed to fit into an existing fireplace. Standard and oversized surround kits are available to accomodate most fireplace openings.

The Power Venting System eliminates any chances of backdraft. The flexibility of burning either outside or room air allows for custom operation to suit any application. A convenient front mounted control panel allows the owner to manually adjust the fuel feed rate and fan speed to suit individual needs for temperature control.

An attractive matte black finish with a 24 K gold plate trim will accent the decor of any home. The KOZI Model 100 Pellet Stove is available with either a gold or black door. KOZI Pellet burners are warranted against poor workmanship and defective materials


Design Features:


# Simple push button start-up system
# Advanced glass saver door screen - reduces cleaning frequency
# Full
# Simplified control circuit is easy to maintain and inexpensive to repair
# Unique diagnostic 3 Light Module System makes it easy to monitor all system functions




The Heater:


# 10 tube heat exchanger
# 50 lb. (22kg) fuel hopper is easily converted to hold 100 lb. (44kg) of fuel with the optional hopper extension
# Large capacity removable ash reservior reduces cleaning frequency
# Top loading fuel feed system separates the burn chamber from the fuel storage compartment reducing risk of burn back
# Negative pressure burn chamber prevents spillage of smoke and fumes into the house
# Manual draft control allows easy adjustment for various fuel and draft conditions
# Adjustable fuel feed from 1 lb to 4.5 lbs per hour (454 grams to 2 kgs)
# Variable speed exchanger blower
# Unique "bouncing flame" heater design
# Effective air wash system keeps the glass clean
# Tested and Certified for safety, efficiency, and performance by Warnock Hersey
# Certified for residental and mobile home installations in Canada and the U.S.A.
# Insert models certfied for masonry insert and factory built zero-clearance fireplace installations




Body Construction:


# All visible corners and edges are finished to reinforce safety and accent appearance
# Heavy duty, full hearth extension
# Matte black Or 24 K gold plated heavy cast iron door
# 24 K gold plated "cool grip coil" door handle
# Ceramic safety glass rated For 1400 ° F (760 °C)
# Full width interior ash lip to reduce spillage when the door is opened
# Aluminized steel interior heat shield and stainless steel burn pot resists heat and corrosion
# Scraper-type heat exchanger cleaner and removable top heat shield






Specifications:

Stove Insert
WIDTH 25" / 625 mm 25" / 625 mm
HEIGHT 31" / 775 mm 23" / 585 mm
DEPTH 25" / 625 mm 25" / 625 mm
WEIGHT 225 lb. / 103 kg 200 lb. / 90 kg
FUEL CAPACITY 50 lb. / 22 kg 40 lb. / 18 kg
MOBILE HOME APPROVED APPROVED
BURN TIME 11 to 50 hours 9 to 40 hours
INPUT/HR* 40,000 BTU 40,000 BTU
FLUE DIAMETER 3" / 75 mm 3" / 75 mm
*INPUT MAY VARY WITH THE QUALITY OF FUEL



Fireplace Opening
Requirements



WIDTH
30" / 762 mm
ALCOVE MIN. WIDTH 48" / 1220 mm
ALCOVE MIN. HEIGHT 48" / 1220 mm
FLOOR PROTECTOR 6" / 150 mm
ELECTRICAL REQUIREMENT 115 Volt / 3 amp
WITH SELF IGNITER 115 Volt / 9 amp
EPA STATUS EXEMPT
TESTING AND LISTED
1" / 25 mm
TO CORNERS 1" / 25 mm
TO SIDEWALL (BAYWIN) 12" / 300 mm
TO SIDEWALL (XL) 5" / 125 mm
TO MANTLE 13" / 330 mm
ALCOVE MAX. DEPTH 30" / 762 mm
ALCOVE MIN. WIDTH 48" / 1220 mm
ALCOVE MIN. HEIGHT 48" / 1220 mm
FLOOR PROTECTOR 6" / 150 mm
ELECTRICAL REQUIREMENT 115 Volt / 3 amp
WITH SELF IGNITER 115 Volt / 9 amp
EPA STATUS EXEMPT
TESTING AND LISTED BY WARNOCK HERSEY
BY WARNOCK HERSEY
MIN 23" MAX 40"
HEIGHT MIN 19.5" MAX 31"
DEPTH MIN 16"
HEARTH REQUIREMENT MIN 11"
CLEARANCES TO COMBUSTIBLES
TO BACKWALL 1" / 25 mm
TO CORNERS 1" / 25 mm
TO SIDEWALL (BAYWIN) 12" / 300 mm
TO SIDEWALL (XL) 5" / 125 mm
TO MANTLE 13" / 330 mm
ALCOVE MAX. DEPTH 30" / 762 mm
ALCOVE MIN. WIDTH 48" / 1220 mm
ALCOVE MIN. HEIGHT 48" / 1220 mm
FLOOR PROTECTOR 6" / 150 mm
ELECTRICAL REQUIREMENT 115 Volt / 3 amp
WITH SELF IGNITER 115 Volt / 9 amp
EPA STATUS EXEMPT



Common Sense Heating
Super In Stock Summer Sale
Prices are going up.
Oil is going up and Propane, have a choice of fuels.
AS SEEN AT THE Hopkinton Fair .
Pellet Boiler $500 off;
Pellet Furnace $400 off
Heats your whole house
add on or stand alone
with Auger system and hopper,
holds a weeks supply or more
see at:
www.cornheat.com
Number 1 and made in the USA
All Pellet Stoves $200 off
Heats several rooms.
Be warm this winter.
Why pay more?
See at Great View Roller Rink
180 US RT. 4 Enfield, NH
.www.commonsenseheating.com
These heat your Whole House
not just a room.

Call for Peter's Prices and save.
Peter is a direct dealer with LDJ, not a middleman, you save even more!

We also sell several models of
KOZI Pellet Stoves.
Be warm without going
Broke. Call Peter Today!


You saw them at the FAIR.
You know how they work.
How they connect to yours!
The credits, the savings.
Why burn your money?
Invest it and be in control again.

BOILER
not a hot water heater, forced hot water
whole house, adjustable,
80,000 btu-165,000 btu's

Furnace
Whole House
Hot air
adjustable from
80,000 btu's
to
165,000 btu's
heats up to
4,000 sq/ft
That's a house or
apartment building
Hopper holds 16 bags of pellets.

Hopper holds
16 bags of pellets, corn,
grain, fed by auger
to boiler
or furnace.

Hopper holds
16 bags ofpellets, corn,
grain. fed by auger
to boiler or furnace.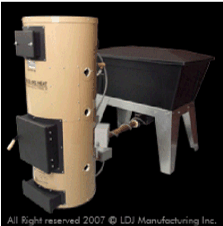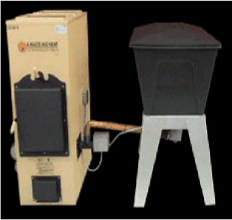 Don't be cold again.
Be nice and warm
buy curtains again.

Above is a video
of the Boiler and Furnace